We often get calls and emails from young people who are looking for some work experience or employment as trainee tree surgeons – I thought this blog might make quite an interesting read...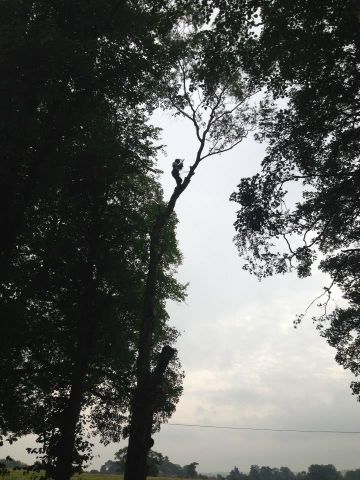 We've all had the 'what do you do then?' conversations with people and my answer often leads to people being fairly impressed with the work we do – lots of people say to me 'what a great job...I couldn't do it though!'.
Yes, you need a head for heights – if you don't have one of those you may as well stop reading now...
We climb trees everyday of our lives – sometimes up to heights of 100-150 feet and we do this whilst carrying a piece of machinery that could potentially take your arm/leg off (there have some real horror stories of accidents that treesurgeons have experienced – I'll let you google these for yourselves....I warned you!)
Tree surgery (or logging as our American friends call it) is cited as being the most dangerous job in the USA – so, having digested all of that why on earth would you want to be a tree surgeon??!
Personally I love my job – every day we are outdoors dealing with new challenges and experiencing nature at its best – we work in all weathers....trust me a hot July day can be just as bad as a minus 5 January morning!
We get to meet new people every day and love to hear feedback from the customers regarding how we have transformed their properties or gardens and potentially removed trees which could become hazards for them in the future.
Yes its physically demanding – I've often been asked how much I "bench press at the gym" – the reality being that hauling my weight up and down a tree all day is all the exercise I need..
So for those of you considering a career in tree surgery be prepared to work hard, get wet, cold, hot (and many more!) and if you don't mind swinging from heights this may be the job for you – would I change what I do for a boring 9-5 office job.....not a chance!!!