Every so often the news brings up a story of some poor, unsuspecting member of the public who meets an untimely end whilst trying to carry out some tree work on their property,
One such story hit the headlines last year when a 67 year old fell from a fir tree he was trying to prune onto some railings and sadly died, another back in 2004 reported a man falling from a ladder whilst holding a chainsaw and unfortunately killing his wife in the process.
I've spared you the gruesome details in these incidents however I hope you are getting the point that tree surgery and the machinery involved is best left to the professionals.
I don't know too many people (although there's always someone!) who would attempt to fit their own boiler, rewire their own house or service their own car so why people think buying/hiring a chainsaw and climbing an unsecured ladder is a good idea baffles me.
One high profile news report from September last year occurred when the Australian Professional Golfer Greg Norman nearly lost his hand in a chainsaw accident. Just days before the accident he'd posted a picture of him and his saw on Instagram with the tagline 'Never ask someone to do something you can do yourself' – well Greg....I hope you learned your lesson! Fortunately for The Great White Shark he narrowly avoided his artery and was left with nerve damage that he will recover from.
The chain on a chainsaw spins at over 60 mph and each individual tooth when new is sharp enough to shave with on top of this managing kickback from saws when used incorrectly is an art in itself – as professionaltree surgeons we are always kitted out in full protective clothing which includes chainsaw boots and trousers designed to choke the chain should be ever come into contact with one of our limbs – for climbing we use ropes/harnesses to keep us safe.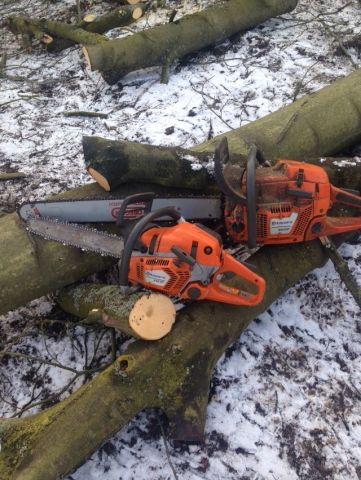 Please consider the huge risks when considering carry out any DIY tree work....call a professional – we know what we are doing!
MB Tree Surgery are a Northamptonshire based professional tree surgery business covering Northampton, Wellingborough, Kettering, Corby, Towcester Rushden and surrounding villages.