The word conifer comes from latin and means to bear cones – they are one of the most prevalent trees in the UK and their hardwearing, evergreen nature makes them a popular choice for homeowners to create shade or privacy on their properties,
There are actually over 600 species of conifer worldwide – one of the most popular and recognisable in the UK is the leylandii species. Leylandii are fast growing and can be perfect for a dense hedge.
If conifers are properly maintained and regularly pruned they can be a fantastic asset to a property and we often see them in many different shapes and sizes that add real aesthetic value to their surroundings. However, as they are so fast growing they can quickly grow too big for their environment and prove to be an insurmountable task for the homeowner.
We get many enquiries from people who are looking for work on their conifers – whether this be full removal or pruning – as with most trees it is important that work is carried out properly as the incorrect cutting of conifers can be disastrous to both the health and appearance of the trees and it is important that cuts are made in a way that promotes and does not inhibit growth.

Often when requesting removal customers are surprised by how affordable it is as although the trees can be large in size they are fairly easy for a professional to remove and dispose of in a quick and efficient manner.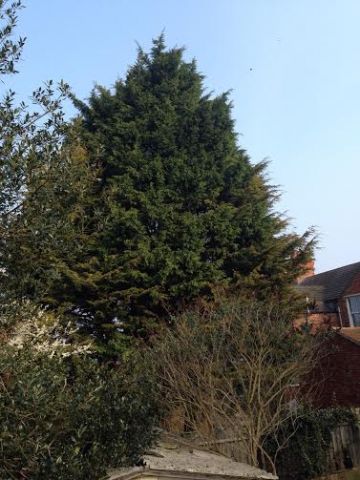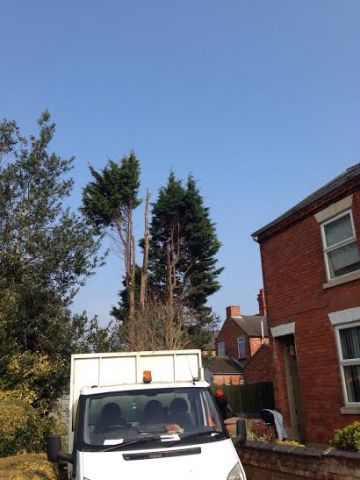 Some recent photographs of a large conifer removal in Rushden, Northamptonshire

Likewise our hedge trimming services can often be completed in a few hours versus something which may take the home owner days when you factor in disposing of the waste.

If your conifers are looking a little unruly or have simply outgrown your garden call us today for a free, no obligation quotation.

MB Tree Surgery are a Northamptonshire based professional tree surgery business covering Northampton, Wellingborough, Kettering, Corby, Towcester Rushden and surrounding villages.