Another tree surgery term for this weeks tree blog – 'crown lifting' (sometimes called 'crown raising'). This is the removal of the lower braches and limbs of a tree to improve access around the ground level.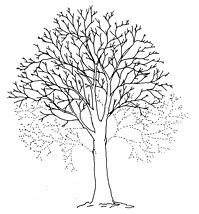 Crown lifting often occurs on the roadside where it is necessary to allow tall lorries or buses to pass, it is also an effective way of increasing light to areas closer to the tree or to enable access e.g. for vehicles on driveways.
Highways regulations state that tree clearance over a highway be 5.5m and 2.5m over a footway.
Crown lifting should not remove the large branches growing directly from the trunk as this can lead to large wounds thus potentially inviting decay into the tree.
It should be restricted to 15% of the overall crown and leave at least two thirds of the height.
Crown lifts can be combined with crown thinning to maximise light through the tree.
As with any tree reductions we would always recommend you consult a professional tree surgeon who will be able to recommend the best options for your trees and carry out the jobs in a safe way leaving the tree in a healthy state once any work has been carried out.
Crown lifting is best carried out in the late summer when the tree is in leaf – as this is when the limbs are at their lowest point due to the weight of the foliage it allows the cuts to be made in an educated way.
Crown lifting is not suitable for all types of tree and we will be happy to advise which species will be particularly suited to this method of tree surgery.
MB Tree Surgery are a Northamptonshire based professional tree surgery business covering Northampton, Wellingborough, Kettering, Corby, Towcester Rushden and surrounding villages.